It's an exciting tale of bikini-clad babes in danger!

Adult performer Kiki Daire wrote a bestselling book about ransom fantasies. It's no surprise when the busty brunette is then grabbed and held for ransom. The buxom, bound authoress tries to negotiate with her captors but she's ballgagged and left alone on a bare mattress. When she tries to hop away and escape, she's caught, exposed and hogtied.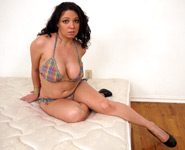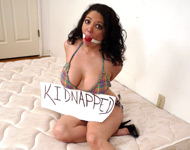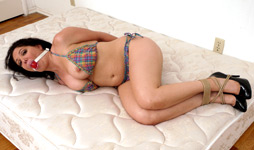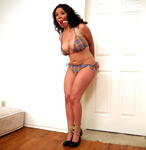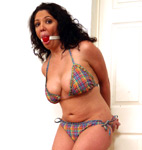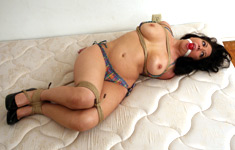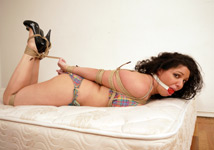 ORDER DVD, OR DOWNLOAD VIDEO SCENES

Kiki's cousin Nina James believes the publisher is secretly behind the disappearance. She and federal agent Shay Laren go undercover and infiltrate the production company researching a reality show based on Kiki's book. As part of a competition, Nina and Shay are dressed in bikinis, bound and gagged. They're then tested on their ability to be understood while cleavegagged. The shapely contestants don't fare too well, and then production supervisor Angelica Saige leaves the tied-up ladies alone to struggle and work on their gag-talking skills.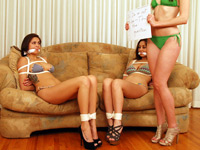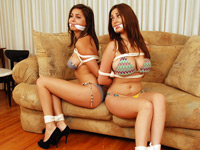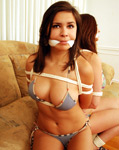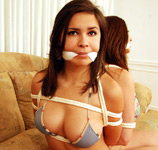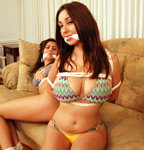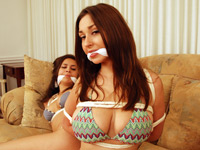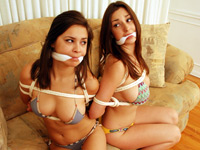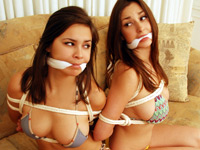 ORDER DVD, OR DOWNLOAD VIDEO SCENES

Later, Shay and Nina overpower Angelica and leave the leggy beauty hogtied on the sofa. Angelica tries to tell them she's on their side, but they ballgag her and go off to search for clues about Kiki's plight. Angelica manages to squirm off the sofa, but despite her struggles, she's helpless to free herself.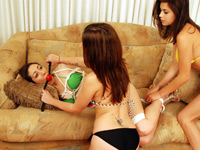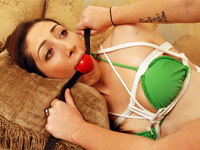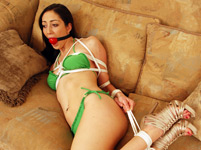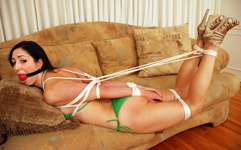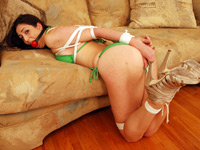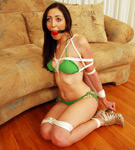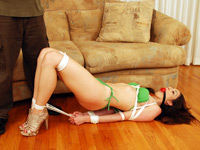 Nina and Shay are caught snooping for incriminating evidence in the office. The bikini-clad babes are quickly cleavegagged and chair-tied. When they try to untie each other, their futile attempt is discovered. More ropes are used to secure them and their tops are pulled aside to reveal their ample breasts.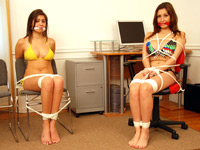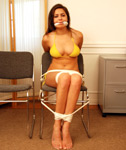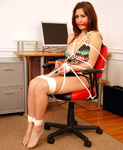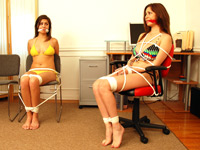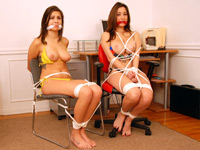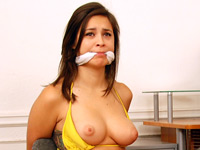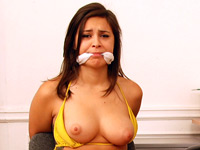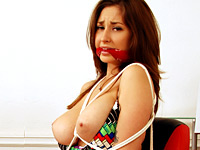 ORDER DVD, OR DOWNLOAD VIDEO SCENES

Soon Angelica, Shay and Nina are all tapegagged and tied up on the bed. The bad guys inform Angelica they know she's actually a law enforcement agent, and decide to put a decisive end to their nefarious operation. The villains leave the sexy trio in dire peril. Will they be able to escape from their precarious predicament?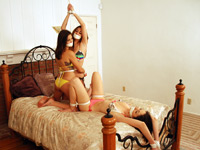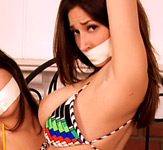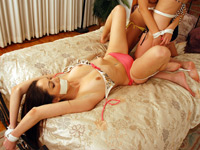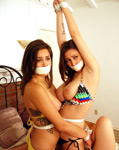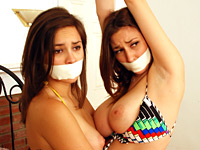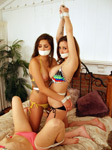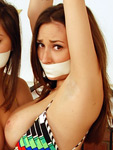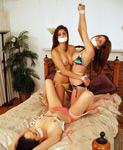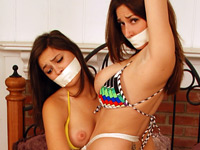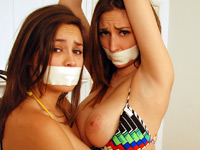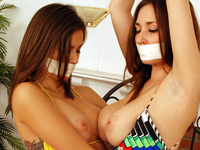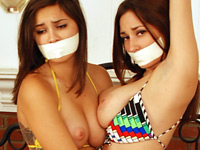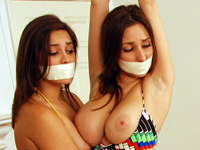 Meanwhile, poor Kiki is still in the clutches of her abductors. She's still on the bare mattress, frogtied, tapegagged and pleading for mercy. A vibrator is tied to her thigh and Kiki has her very first bondage orgasm.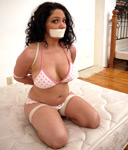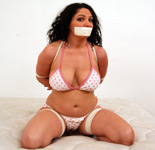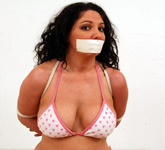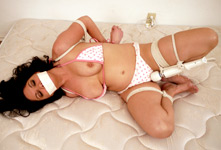 ORDER DVD, OR DOWNLOAD VIDEO SCENES

The 35 minute story is followed by two short stories:
In "Another Institution," a hospital administrator (played by Star) confronts a doctor with dubious credentials and a sketchy past. The doctor and his villainous partner overpower the slender blonde, and she soon finds herself strapped into a canvas posey straitjacket with her ankles bound together with a leather strap. The evil doctor tapegags Star and tells her he's going to have her committed to an asylum. Left alone, Star hops around and squirms in vain against her bondage. How can she escape from these lunatics?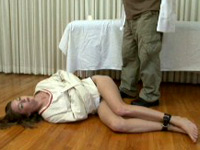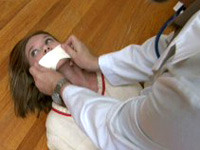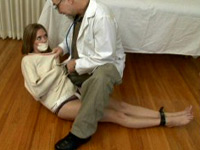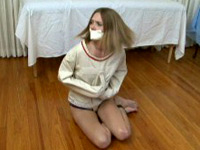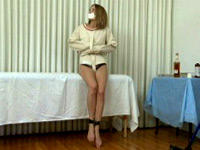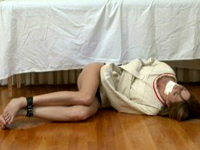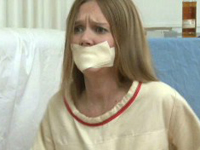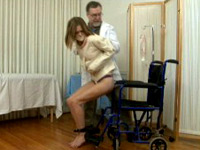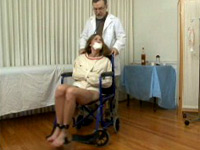 ORDER DVD, OR DOWNLOAD VIDEO SCENES

The video concludes with Pandora Jones paying homage to the golden age of television damsels in "Dangerous Freight." The curvy blonde portrays the danger-prone niece of pilot "Duke McCloud." The booted cowgirl is seen cleavegagged and bound hand and foot in the back seat of a car, then detective-gagged and hogtied in the trunk. But once they've finished filming the scene, will the crew set the pretty actress free?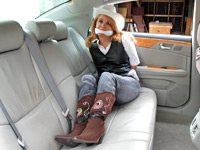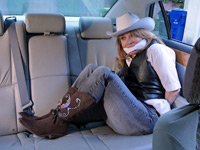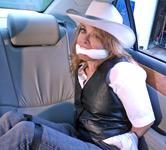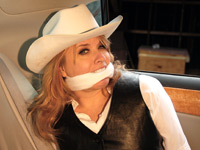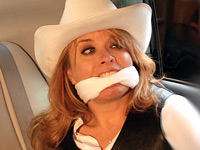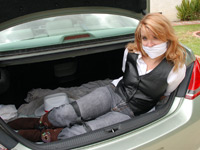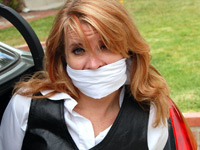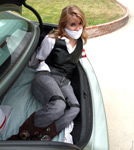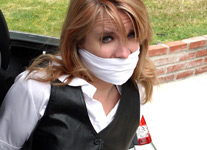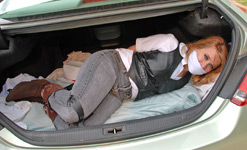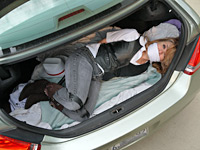 ORDER DVD, OR DOWNLOAD VIDEO SCENES
ID #: JW-41
Price: $30.00